Pillars of Health has been launched!
On May 20th, we successfully launched our new website and coalition during an engaging and dynamic session. Together with panelists, we discussed the maldistribution of health workers in the European Union and neighbouring countries, and how Pillars of Health and its coalition aims to contribute to a solution. You can watch the recording of the event on YouTube (see below).
The *session kicked off with an introductory speech by moderator Corinne Hinlopen (Pillars of Health programme officer), and presentations by Aysel Rahimli (Pillars of Health programme coordinator) about Pillars of Health, our initial research findings on health workforce mobility and migration in Germany, Romania, Serbia and on EU level, and interviews with Romanian health workers who migrated to the Netherlands and/or returned back to Romania.
During the panel discussion, our panelists (see below) engaged in a lively exchange about the needed (policy) changes to mitigate the negative effects of health workforce migration in Europe, to ensure equal access to health workers for everyone in Europe.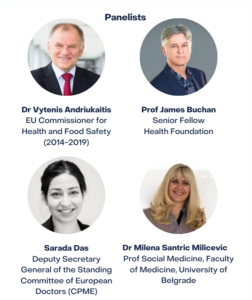 *Agenda
14:00 – 14:15
Welcome
Brief introduction on:
The maldistribution of health workers in the European Union
Pillars of Health
14:15 – 14:25
Pillars of Health, a partnership for advocacy
Our research findings so far
The stories of health workers who migrate
14:25 – 14:45
Panel discussion with:
Dr Vytenis Andriukaitis (Special Envoy of the WHO for Universal Health Coverage for the European region and Member of the Political Advisory Panel of the UHC 2030 Movement (since 2020); former EU Commissioner for Health and Food Safety (2014-2019))
Prof James Buchan (Senior Fellow at the Health Foundation, London)
Sarada Das (Deputy Secretary General of the Standing Committee of European Doctors (CPME))
Dr Milena Santric Milicevic (Prof Social Medicine at the Faculty of Medicine, University of Belgrade, Serbia)
14:45 – 14:55
Q&A session
14:55 – 15:05
Pillars of Health coalition: joining forces for health worker balance in Europe
15:05 – 15:15
How to get involved
back