Time to act now: the health workforce crisis is a collective, EU-wide crisis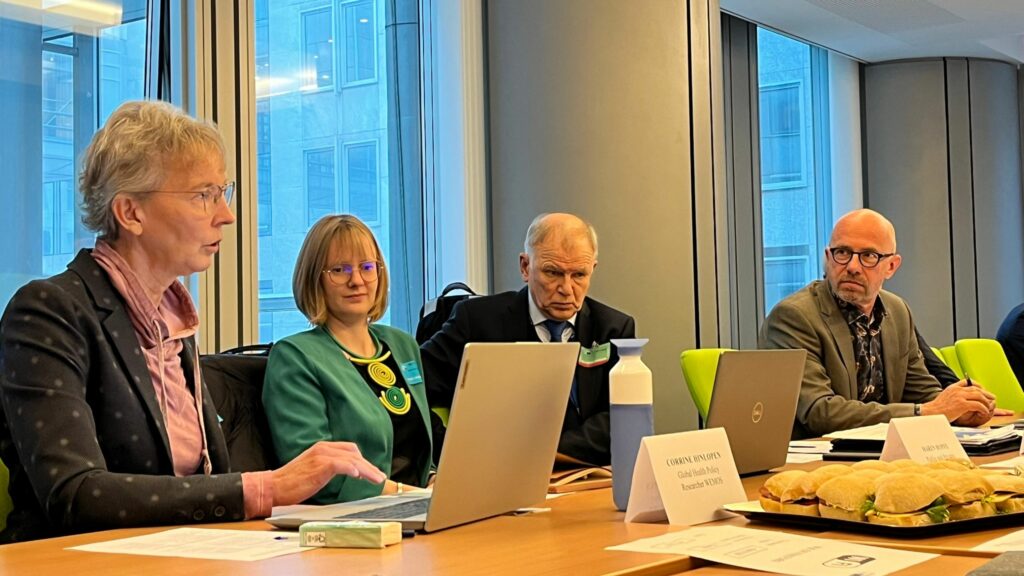 The European Union should support its Member States with addressing their national health workforce shortages. The consequences of mobility and migration of health workers in the EU has led to a cross-border, internal EU-wide crisis. The EU can contribute to solving this by:
1) approaching it as an EU-wide crisis that requires EU-level intervention,
2) acquiring better data from Member States to better understand what is happening,
3) earmarking finance for structural investments in health workforce strengthening.
These were the 3 main recommendations from Corinne Hinlopen, global health advocate at Wemos (lead partner organisation of Pillars of Health), at the European Institute of Health and Sustainable Development Conference on Nov 30th in Brussels.

Representing Wemos and Pillars of Health, Corinne Hinlopen made a plea to all policy makers, politicians, academics, and members of civil society to be a health workforce advocate.

The cost of inaction
"Health experts and health professionals have been forecasting the health workforce shortages for decades already. Health economists have pointed out often enough that the health sector and the health labour market are not markets in the traditional sense of the word. And now we see the cost of inaction. In the past decade, Romania, Estonia, Slovakia, and Hungary have seen so many doctors leave that they would make up to 20-25% of their current health workforce size.

We are leaving so many people behind. We are failing to deliver on the promise we made, to Member States and to the people in the Member States, that in the European Union we will prosper together, in solidarity. And the risk is that the people who are left behind, will turn their backs on Europe and European institutions," she said during her presentation at the conference.

Pillars of Health partners will continue our advocacy activities, reaching out to Members of European Parliament, European Commission staff members, health advocates in European civil society and thinktanks. With the initiatives for a true European Health Union, and European Parliament elections in 2024, there is momentum and opportunity for change.

The (hybrid) conference was organised by Juozas Olekas (Member of EU Parliament), European Institute of Health and Sustainable Development (EIHSD), and the Foundation for European Progressive Studies (FEPS). Closing remarks were given by Juozas Olekas, as well as Dr. Vytenis Andriukaitis, former European Commissioner for Health, who also participated as a key note speaker at the launch session of Pillars of Health in May 2022.
back